Conference Tour (Minimum 10 persons per group)
Conference Tour

Pick-up time: AM08:00~08:30

Meeting Point: Hotel One Lobby

Fare: Free

Duration: 8~9 hours

Tour Stops:

1. 鎮瀾宮 DAJIA JENN LANN TEMPLE

2. 華陶窯 Hwa Tao Yao

<![if !supportMisalignedColumns]>
<![endif]>
<![if !vml]>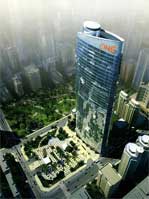 <![endif]>Hospice: (Foreigner ONLY)
Hotel ONE
Hotel ONE is the new brand founded and
fully managed by Landis Hotels & Resorts.
The hotel structure is designed by world-
renowned team, KPF Associates. Descending
The hotel, the highest in the city, is
now a landmark and ranks as the fifth tallest
building island-wide.
http://taichung.hotelone.com.tw/index.php
<![if !vml]> <![endif]>
Tour stop information:
DAJIA JENN LANN TEMPLE
Due to the geographical location and the historical background in Taiwan, the St. Celestial Queen – Mazu, the so called Goddess of Sea, has the most believers and the noblest position. For Taiwanese, it is not a superstition to believe in Mazu, but a deep-rooted belief. In Spring every year, Mazu's birthday is in March. It is a revelry festival. Pilgrims worship her. It is an exceptionally grand occasion.
<![if !vml]> <![endif]>
Hwa Tao Yao
The name of Hwa Tao Yao enlivens the kiln with the very three Chinese characters. Hwa, 華, refers to "flower", the second, Tao, 陶,"ceramics", and the last, Yao, 窯, "kiln".
The idea of creating a Taiwanese garden corresponding to the humanistic spirit of the workshop began to develop in this beautiful garden with the following concerns in mind: climatic variances, altitudes, rivers, and architectural styles.
http://www.hwataoyao.com.tw/index/